Burnaby Mountain Horizons Restaurant Wedding – July 7th, 2018
Mary and Ryan had their beautiful wedding ceremony at St. Micheal Parish Catholic church in front of all of their family and friends. Although, a part of me wondered as the groom came down the aisle, would be run? He did not, but I'm sure he thought about it! Mary and Ryan met at a local run crew a few years ago in North Burnaby. Even on their wedding day things "ran" so smoothly. No pun intended.
What a blessing it was to see the tears of happiness and all the huge smiles on their big day. Formal portraits were taken up at Simon Fraser University at the stunning Academic Quadrangle pond. Then, we were off to Mary and Ryan's reception at the lovely Horizons Restaurant located on the top of Burnaby Mountain with a great view of Burnaby and Vancouver as well.
The evening ended with an amazing sunset and a restaurant full of warm hearts. Plus, I heard a little run spontaneously happened with the bride and groom and other fellow runners at the wedding after Sparrow Photography left the venue. Love it! Following your adventures together, before and after becoming newlyweds has been so inspiring. Thank you so much for that!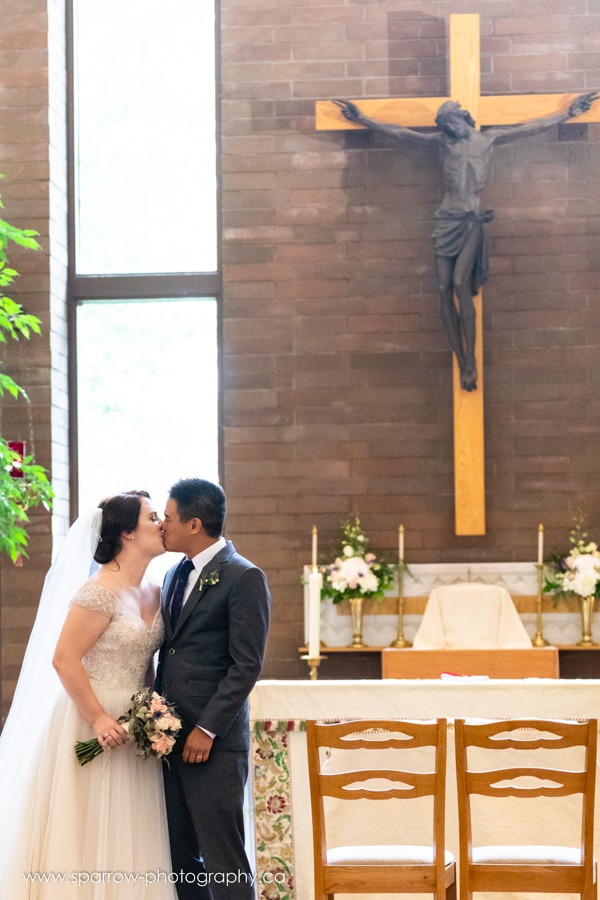 Photography – Sparrow Photography
Bride's hair and makeup: Carla Hawksworth Makeup & Hair
Bride's gown: Tiffany's Vancouver Bridal – Mori Lee Bridal
Bride's shoes– Nina Shoes
Groom's attire- GG Armani Tailors (Thailand)
Bridesmaids Gowns – Lulus
Hair and Makeup – Two Seventeen Beauty
Reception Venue – Horizons Restaurant
Ceremony – St. Michael Parish
On-location photography – Simon Fraser University AQ Pond
On-location photography – Burnaby Mountain
Thank you again for visiting Sparrow Photography! Also visit Sparrow Photography on Instagram and on Facebook.