Westin Bayshore Wedding Show Review 2019
It is unfortunate for many many brides and grooms in 2020 who have or are unable to have their dream wedding this year. Wedding shows are also a fun part of the wedding process and brides love to explode the shows for new vendors, ideas, and maybe even to win a prize.
A wedding show may start with a large amount of work but it is ever so worth every minute of work to see those happy engaged brides or couples walk through the doors of the show with excitement and a desire to create that vision for their special wedding day.
Paradise Events Inc. is a full-service event design and planning, floral design, decor installations, expert event lighting design, photo booth party rentals, red carpet step-and-repeat backdrops, and even our own roster of in-house DJs! Paradise Events Inc. provided design, decor and floral for Pinnacle Pier Hotel's wedding show booth at The Westin Bayshore Hotel in Vancouver BC Canada.
Here are some highlights from the booth and our mini styled shoot below.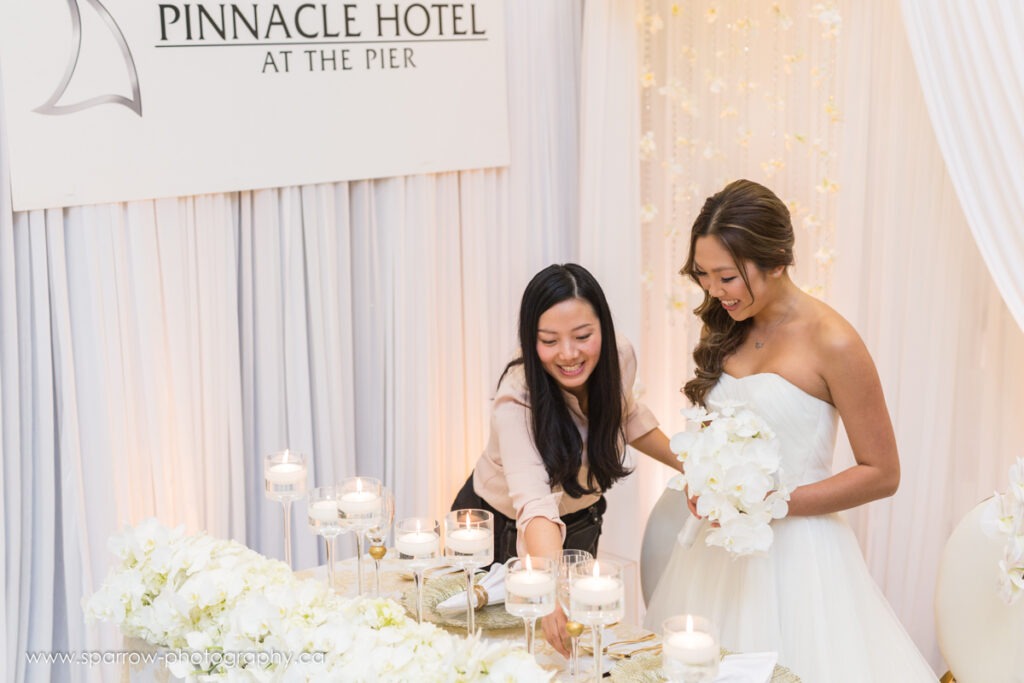 Descriptions taken from Paradise Events Inc. Instagram page: @paradise_events_inc.
Go visit this amazing wedding event designer and planner today!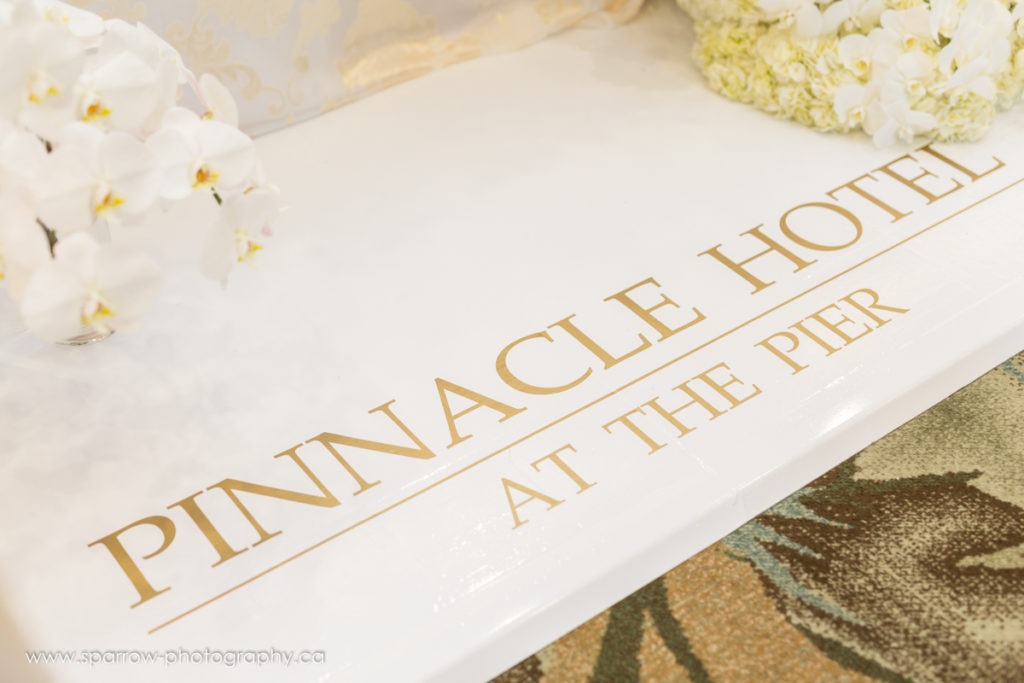 No details are left behind, including those 24k gold plated cutlery and vintage crystal Chapman flute and wine glass. Securities, any where.
We are all about unique and one of a kind design.
We will always love a orchid bouquet! Will you?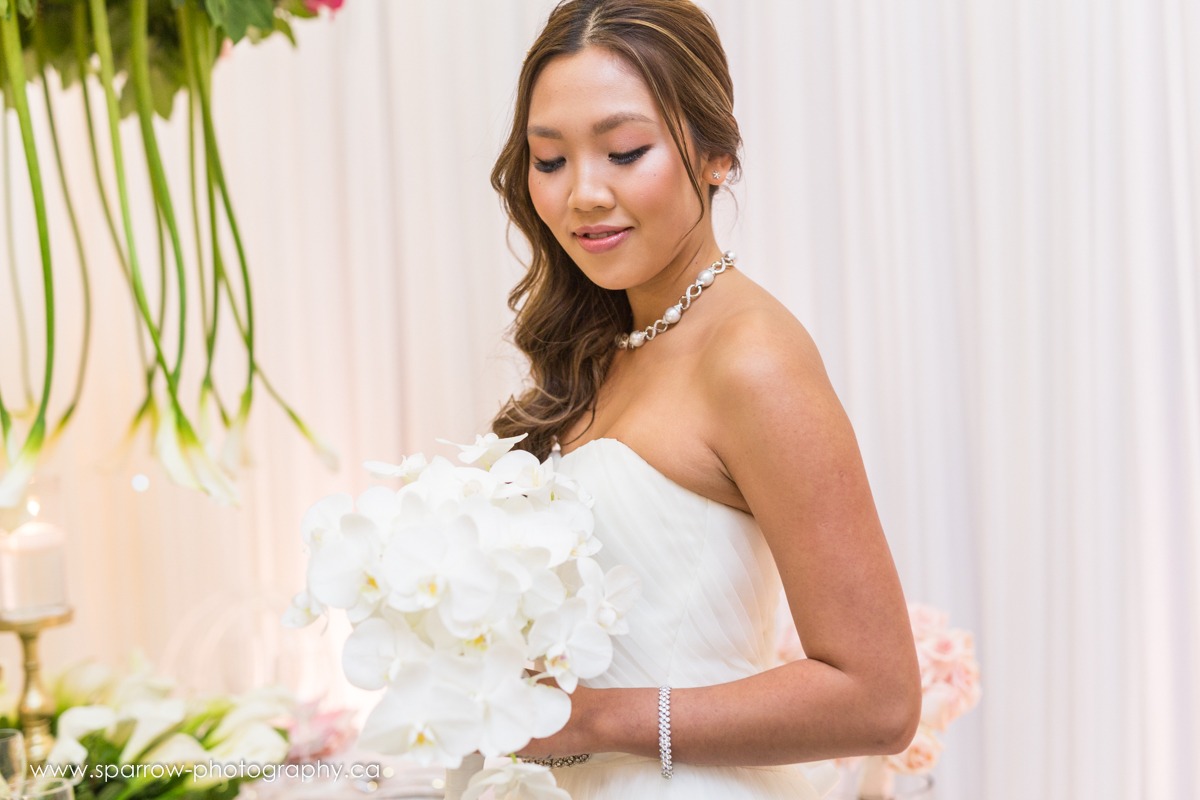 Not all drapes are equal. We are definitely proud of our elegant drapes. It creates a perfect background to better showcase any design. And don't forget to add up-lighting. They go hand in hand.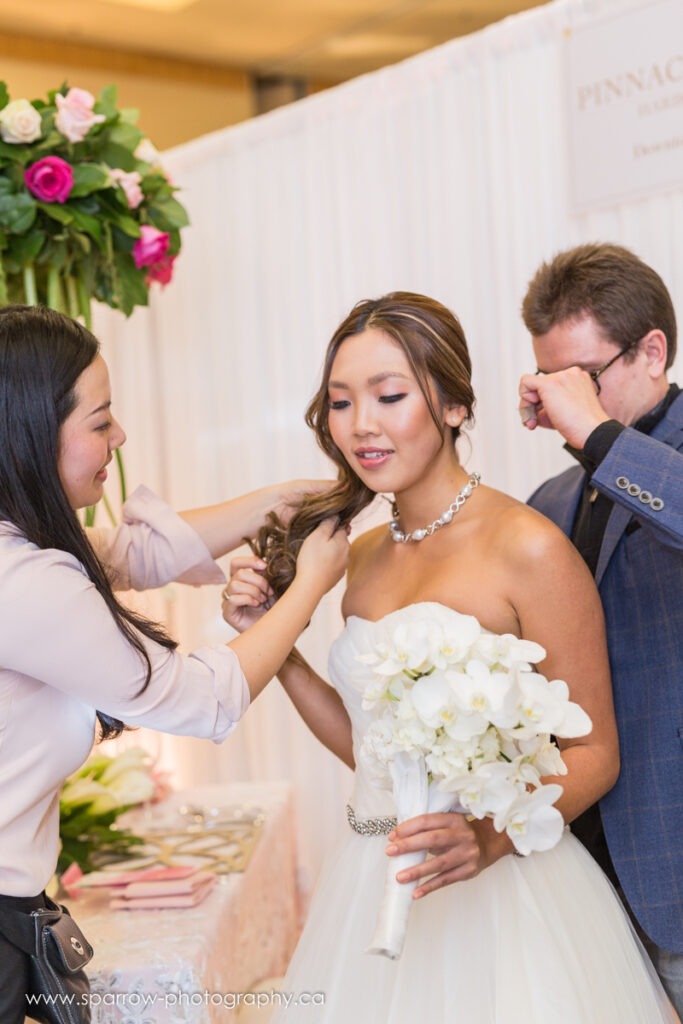 It takes a big team work to create something amazing. Love this behind the scene shot captured by @sparrowdashphotography.ca. Who says wearing necklace is an easy task ???? Oh our bride, don't worry. That is how we look after you as well.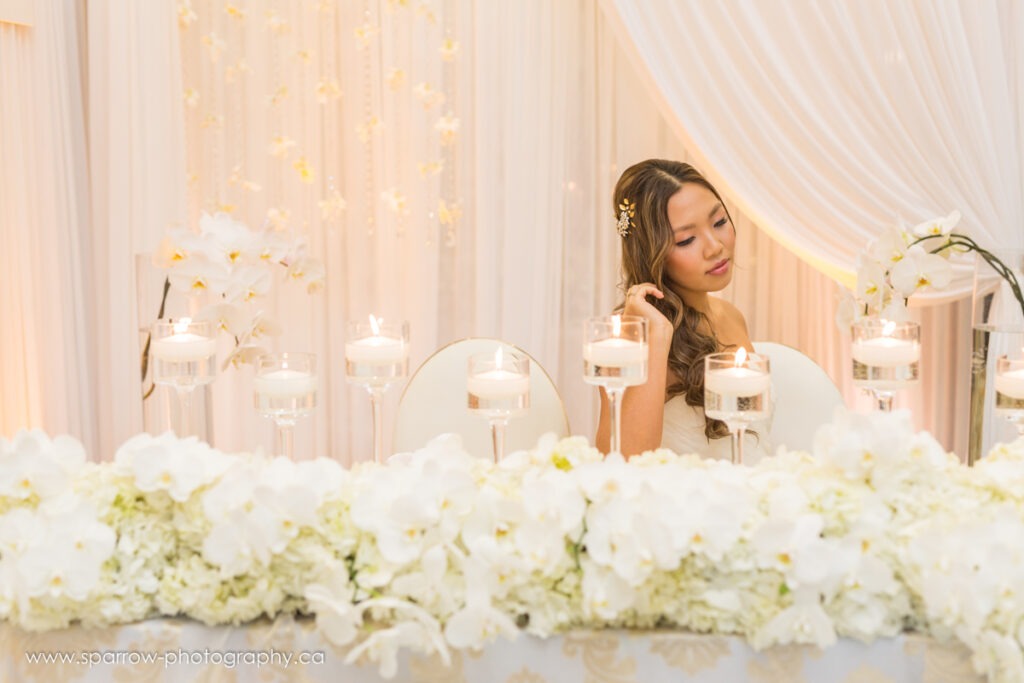 A sweet heart table deserves a pretty flower runner and some candle lights right?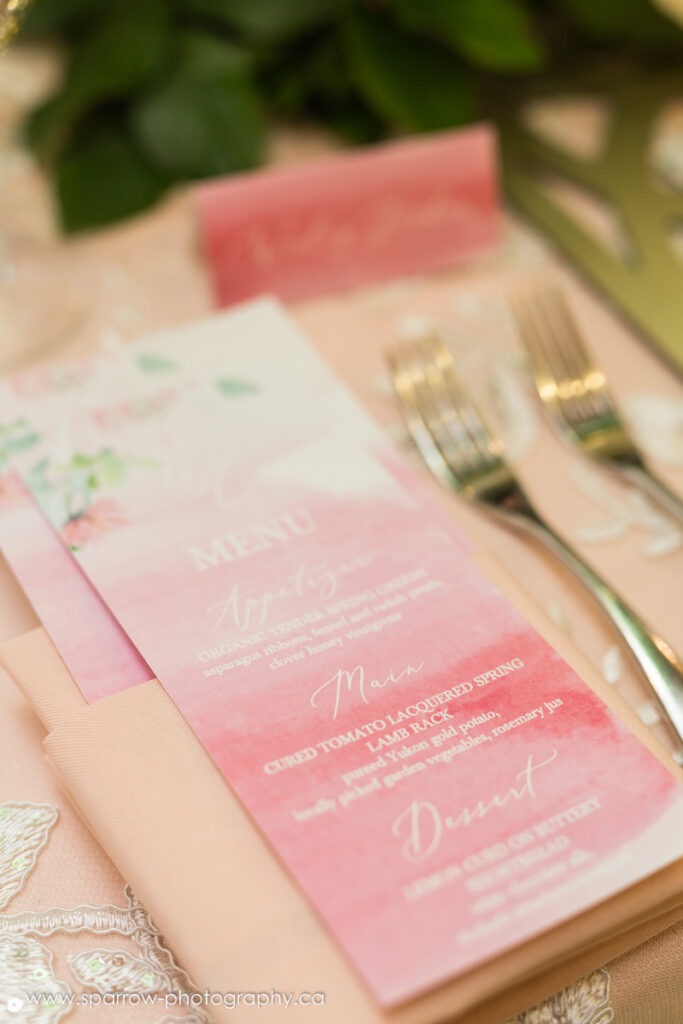 The ombre watercolor / garden vibe stationary by @makingmemories.stationery sets the tone for our table escape design for @pinnacleharbourfront's booth at wedding fair. Lots of couples don't include a healthy budget for stationary. Here is the check list we use: save the date (we sometimes recommend couples using email with a google form, so they can type in their mailing address, and have a soft idea if they are coming), invitation card, rsvp card, map or add information card, program card, menu card, table number, placement card, escort card. You might also need seating chart, favors tags. We recommend hiring a pro for a consistent and beautiful design. That might be the first thing your guests receive. And first impression matters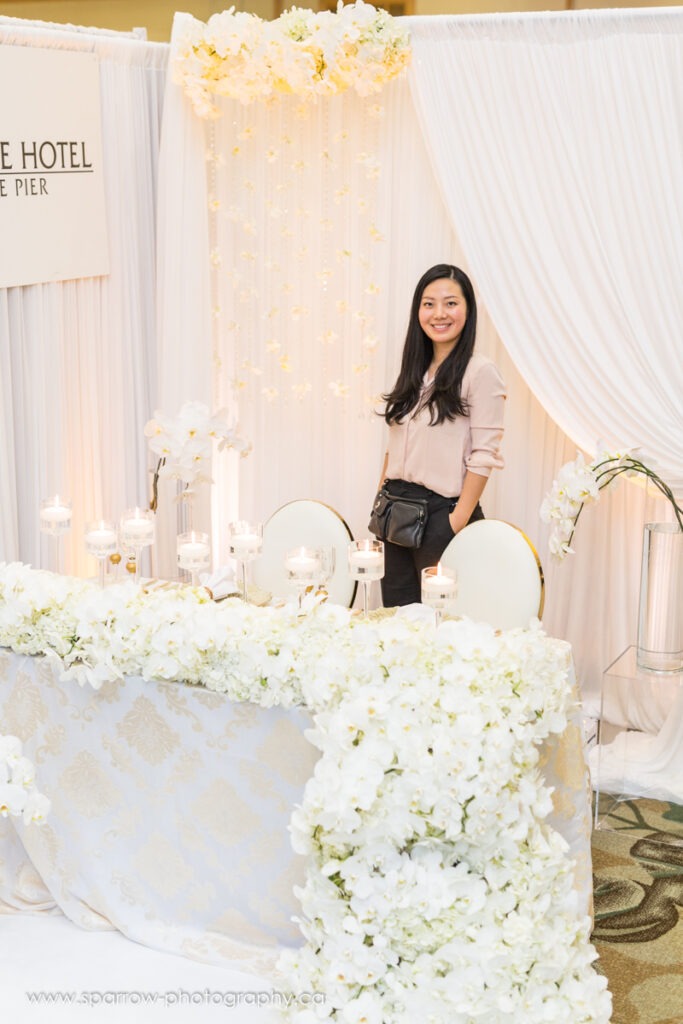 When you were only given 8ft by 8ft space at a busy wedding show, you know you need to make it a wow factor! We believe wedding design is more than just checking off the ticket items. It is about telling our clients' story, and make an experience for them to cherish a life time. We had so much fun working on this booth design, decor and floral for our friends @pinnaclepierhotel.
We went with an asymmetrical design for a modern fresh take for our friends at @pinnaclepierhotel what a pleasure design and decorate for the wedding fair booth.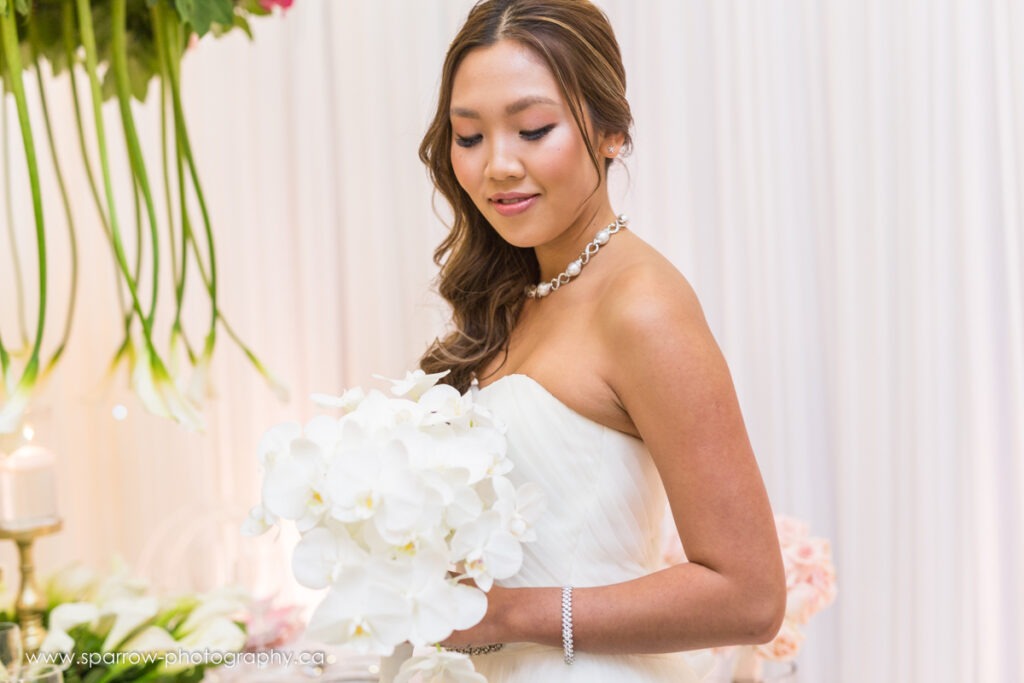 These @jiliaev_jewellery_collection custom diamond bracelet, necklace and engagement ring are the #perfectfinaltouches.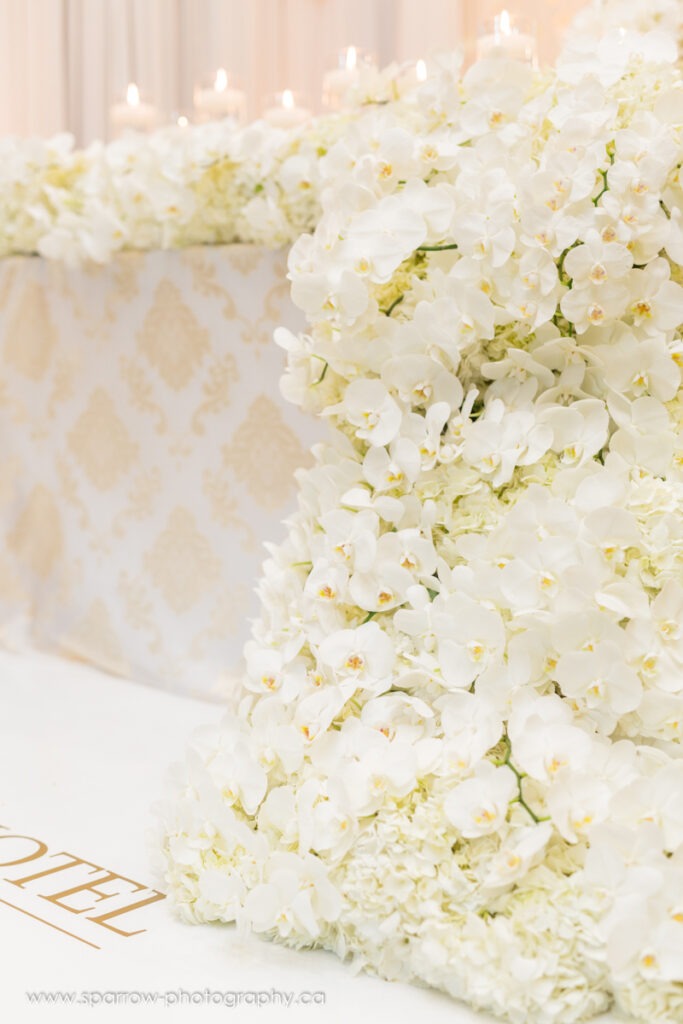 Did we say the sweet heart table has a runner? It does RUN all the way to the floor just like a waterfall???? Will you like this waterfall runner for your big day? Design, decor, floral @paradise_events_inc.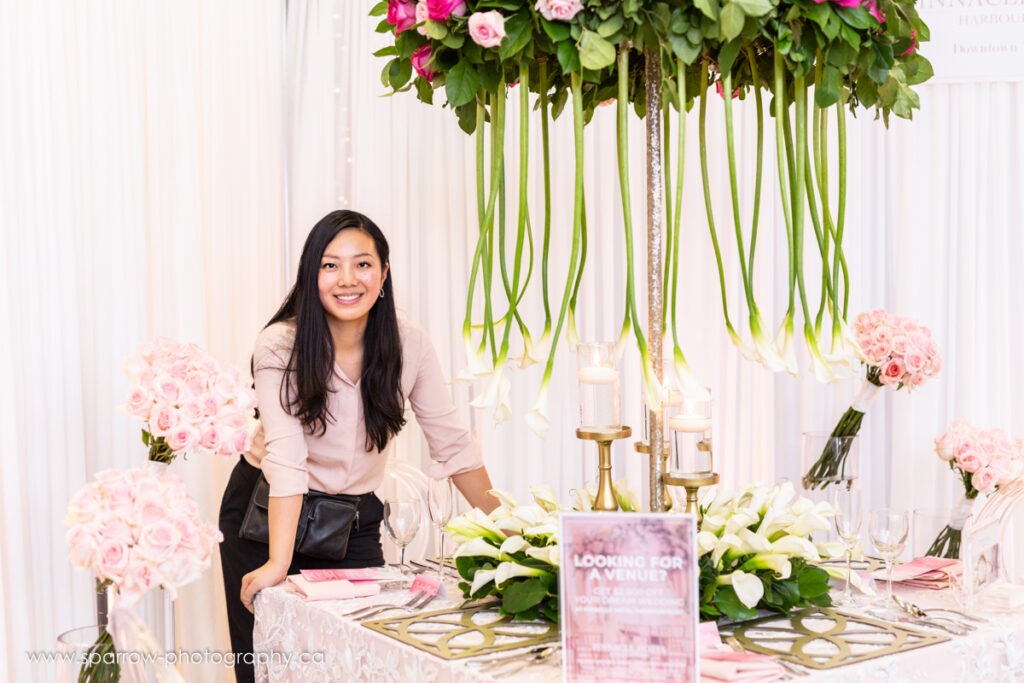 Final touch ups might require long arms. Design, decor, floral by @paradise_events_inc photo by @sparrowdashphotography.ca model by @katrilyn_ makeup by @fayesmithmakeup for @pinnacleharbourfront custom diamond by @jiliaev_jewellery_collection stationary @makingmemories.stationery
Special shout out to amazing partners who came together last minute for the fun mini style shoot! @sparrowdashphotography.ca @fayesmithmakeup @makingmemories.stationery @katrilyn_ @jiliaev_jewellery_collection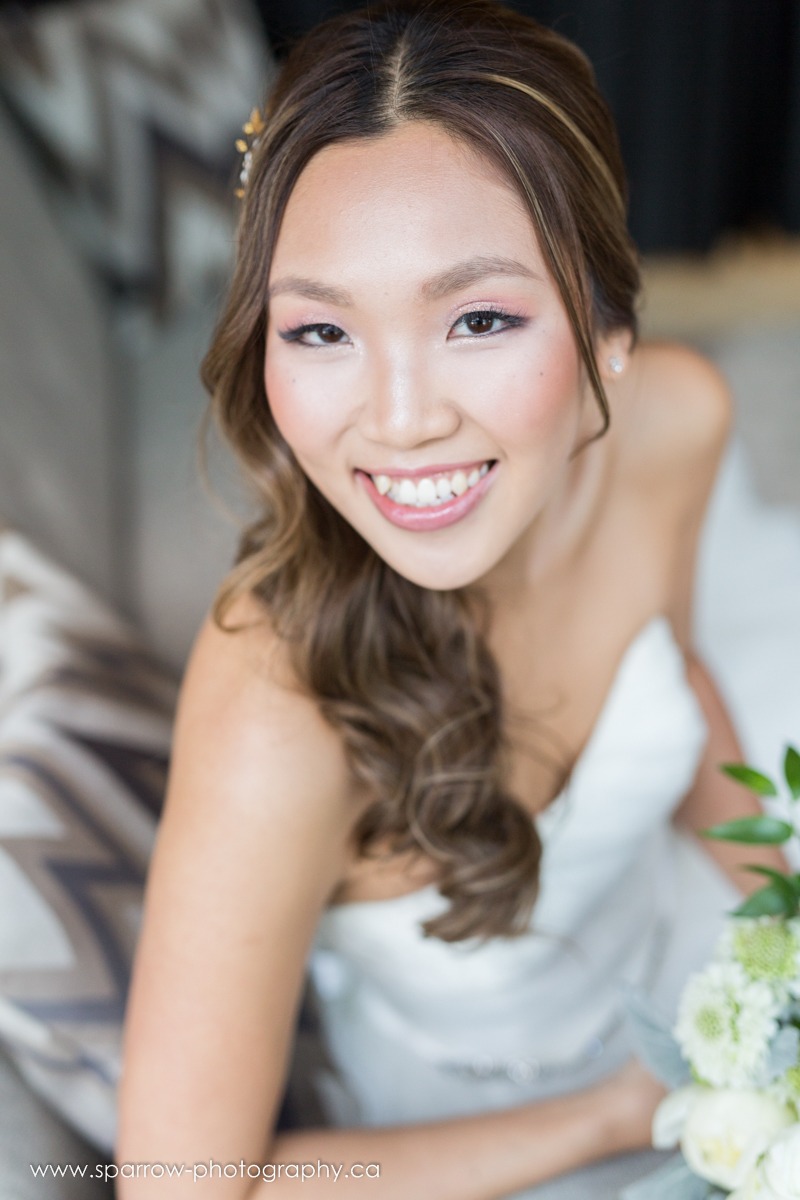 Date of wedding show: January 12, 2019
____________________________________________________________________________________________________
Photography – Sparrow Photography
Venue – Westin Bayshore Hotel
________________________________________________________________________________________________________________________
Thank you again for visiting Sparrow Photography! Also visit Sparrow Photography on Instagram and on Facebook.
Westin Bayshore wedding show 2019 – Vancouver, BC Canada