FEBRUARY 16, 2018
It is always so fun to hear your event coverage is featured! Bev of Hand Lettered Love by Bev has been such a fun fellow womanpreuer to work with. Here is our recent feature from her very Chalkboard first lettering work shop which happened in late 2017. I'm super excited to work with her again in 2018 on some more adorable projects!
Check out the feature on Kara's Party Ideas blog:
From the feature on Kara's Party Idea's blog:
Looking for a party theme to wow your lady friends? If so, feast your eyes on this Chalk Lettering Workshop Craft Party by Bev Soh of Hand Lettered Love by Bev, out of Abbotsford British Columbia Canada!
Featuring a light color palette, accented with delicate decor; this lovely event is sure to catch your eye!
Plus, it looks like loads of fun!
Bev's party snippet-
"It was such a dream to be able to teach this chalk lettering workshop. I have been hand lettering chalkboard and mirror signage for over two years now and to have clients want to learn from me is the biggest compliment I could ever ask for. I decided early on that the decor and overall atmosphere was important to me so I asked Green Leaf Floral Design to provide the beautiful flower arrangements that I set on each table. Each student received a lettering workbook, chalkboard, chalk marker, swag bag and a keepsake tote bag designed by yours truly. Every get together needs refreshments so I put together a self-serve popcorn bar complete with flavor shakers. I added some fresh fruit and delicious cupcakes and we were set! These ladies did such a great job creating their beautiful chalkboards and I am so happy with how everything turned out!"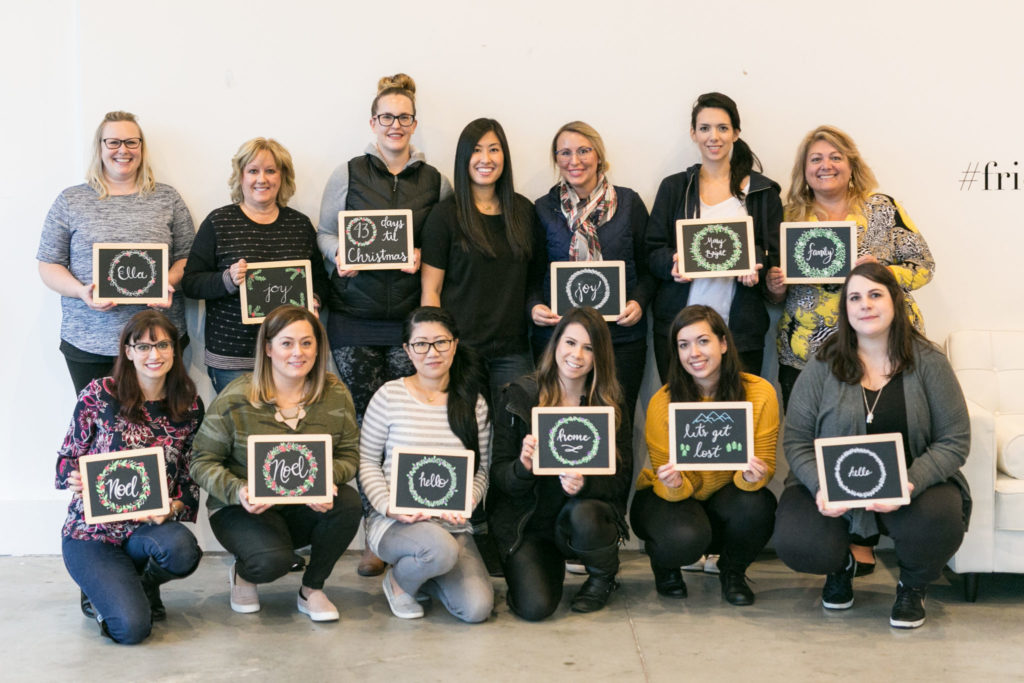 hank you again to Bev! You rock lady boss!
Vendors:
Photography: Sparrow Photography
Planning and workshop instruction by: Hand Lettered Love by Bev
Flower Arrangements: Green Leaf Floral Design
Demo Chalkboard: Tie a String